I-Car Gold Class Professional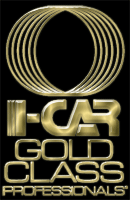 Custom Services:
Customer Service

---

Estimating Systems: CCC and Pathways®

We Utilize the CCC Information Services Inc., The Connectivity Company®, provides software, communications, database information, and business management services, to the insurance, collision repair, and automotive-related industries. CCC's products and services help cut the time associated with the traditional insurance claim settlement and repair process in half - from 14 to 7 days, through more accurate information and improved efficiency. CCC's products provide value to our customers by significantly lowering costs and improving customer satisfaction.

---

Important Things To Know Before Repairing Your Vehicle

Don't take chances driving a wrecked vehicle if it is obviously unsafe to drive. See if the repair facility or insurance company can provide or arrange towing for you.

Know that you have the right to have your vehicle repaired at the facility of your choice. No insurance company can insist or require that you use a particular repair facility.

You are not required by any law to obtain more than one damage appraisal/estimate.

Certain insurance companies may refer you to one of their drive-in claims centers for an inspection. YOU may also request the insurance co. to inspect your vehicle at a repair facility of your choice where the estimate can be negotiated.

Don't compromise the quality of repair of your vehicle. For most people their vehicle is an important investment so be sure to choose a highly recommended collision repair facility with technicians certified by I-CAR or ASE.

Estimates may vary in cost from one facility to another, or even from different insurance companies. This is usually due to an inability to see all the hidden damage. We will be happy to answer any questions for you regarding this.

Ask the repair facility if original manufactures (OEM) replacement parts will be used for your vehicle.

Ask if the repair facility offers a warranty on the repair.

---

I-CAR, The Inter-Industry Conference on Auto Collision Repair, founded in 1979, is a not-for-profit international training organization dedicated to improving the quality, safety and efficiency of auto collision repair, for the ultimate benefit of the consumer.


The Gold Class Professionals® program was created in 1990 to recognize those businesses that are committed to quality and excellence through training. Being a Gold Class Professional is the highest form of training a business can earn in the Collision Industry. Gold Class businesses are dedicated to training their employees on the latest collision repair technology, so they can provide high quality repairs to their customers in the quickest and safest way possible.

2 Viaduct Avenue Downingtown, PA 19335

PHONE: 610-269-3744 FAX: 610-269-3672

PPG Certified Collision Repair Center

Collision Services:
O'NEILL'S COLLISION, INC. 2007-2010 All rights reserved.
Air Vegas Web Design